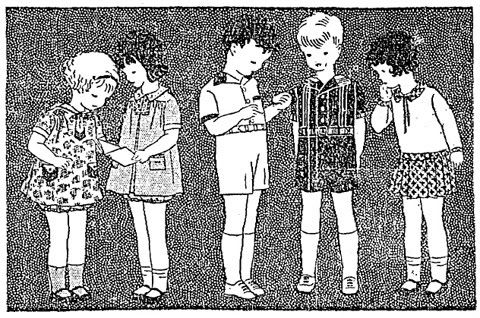 vintage children's clothing ad
So, I am so neck deep in crafting I don't even have time to upload progress pics! :) Oh, the horror - because if I don't actually show you what I'm doing, I must not be crafting! ;) However, I do have time to conduct impromtpu research on embroidery and share a few little gems with you. Take this article I stumbled on yesterday - see if you can guess what year it was written:
At a women's college, a recent student survey revealed that the "average girl" is 17 and healthy and likes to knit. "A few years ago," remarks the manager of a needlework shop, "girls of that age thought knitting was something for their grandmothers."

Now, even 17 is knitting. Everyone is knitting, or crocheting, or doing needlepoint.
Have you guessed yet? Ok, try 1935! And we like to think we've re-invented knitting and crafting. All I did was change 1 word - instead of "composite girl" I said "average girl", because, uh - who says "composite" anyway? :) I love reading articles like this - they remind me that everything is cyclical, and what we thought was so uncool and "for grannies" becomes next generation's uber-cool. And we never really re-invent - we just adapt our crafts to reflect our changing ideals and interests...
And, boy am I happy I didn't live in the 30's... Then I would have had to wear this! And I thought PMS was bad. Can you imagine PMS + Nemoflex?!
Read the entire article:
Get your own Box.net widget and share anywhere!